UPDATE:
In true design-enthusiasts-meets-inability-to-make-up-our-minds fashion, we've decided to go with cream subway tile for our backsplash.  Our reasoning was just what we wrote about before…we wanted something classic that we wouldn't regret or get over quickly.  A backsplash is a lot of work, so we made the "safe" choice this time.  Read on for our original thoughts and tile choice and check back soon for our completed kitchen renovation to be posted!
Welcome to The Great Backsplash Debate!  Today, we are officially 3 weeks into our kitchen renovation and are into the home stretch.  Still have lots to do, but this is more fun stuff.  Although, there's still some wall repairs and I hate doing that cause I'm awful at it.  Awful.
Remaining projects:
Range
Sink
Dishwasher
Microwave
Range Hood
Cabinets on wall with fridge
Counter top – get ready for some concrete overlay!
Backsplash
What's done:
Demolition
Flooring
Island
Most cabinets on the range and sink sides of the kitchen
Pendant lights
Recessed lights
The backsplash has been purchased and we have gone in a completely different direction than what we originally intended.  Let's look at the two tile styles we were considering and then the one we ended up choosing.
3″x6″ White Subway Tile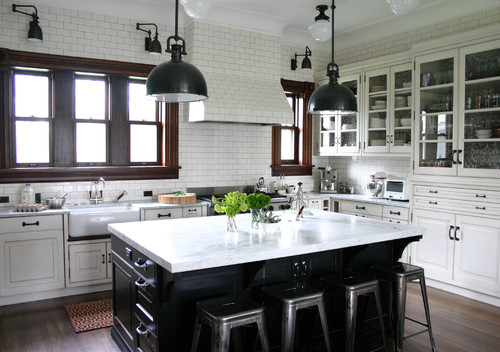 Classic, clean, bright.  We were pretty much set on this as our backsplash.  And then we fell for and ordered cream cabinets and white subway tile just clashed.  There's something about cream subway tiles that turn me off.  We could've considered gray subway tiles, but we didn't get that far.
White/Cream Arabesque Tile
 This was my original tile crush before we bought this house.  I still absolutely love it but the hubs was not as receptive.
Our actual tile choice could be a complete and total failure or we could love it but that love could be short lived.  We took a chance and gambled because we saw the Property Brothers show a house with similar tile and we went crazy for it.  Without further ado, our tile choice:
Surprisingly, we had a lot of approval for our choice from family and friends at Cole's birthday party this past weekend.  And believe me, there is no shortage of painfully honest people in our lives.
So what do you think?  Would you use floor tile for your backsplash?  How about WOOD floor tile?
Nicole K.